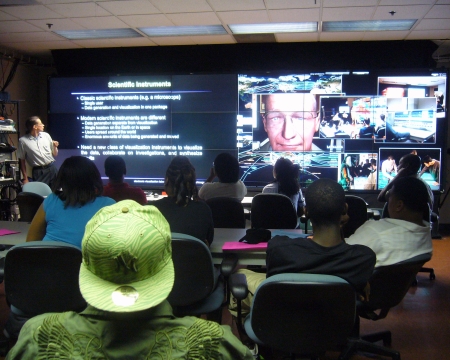 Dr. Andy Johnson giving a MERRP presentation using SAGE on the EVL Cyber-Commons wall.
UIC/EVL, Chicago, IL
July 9, 2010
On July 9, 2010, University of Illinois at Chicago (UIC) Associate Professor Andy Johnson of the Electronic Visualization Laboratory (EVL) and Computer Science Department gave a presentation of EVL's visualization, virtual-reality and networking research to 20 students from the Chicago State University Minority Engineering program.
This presentation was one of several activities planned by Gerald A. Smith of the UIC College of Engineering's Minority Engineering Recruitment & Retention Program (MERRP).