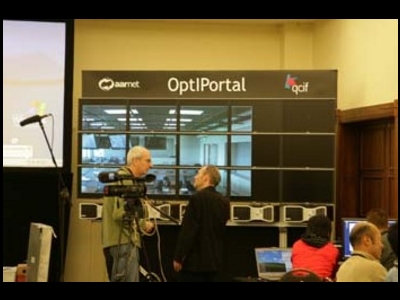 Sydney, AUSTRALIA – 11 February 2010
AARNet, Australia's Academic and Research Network has joined forces with the University of Queensland, Queensland Cyber Infrastructure Foundation (QCIF) to offer Australia's first SAGE Bridge to support the multidirectional streaming (or visualcasting) of ultra high resolution videos and images at up to five Gigabits per second (Gbps).
Used to support global collaboration among co-located and remote experts who require interactive ultra-high-resolution imagery, delegates at the 29th Asia Pacific Advanced Networking Consortium meeting (APAN) in Sydney were shown a live multidirectional visualcast on an OptiPortal connected to AARNet's high speed network. The demonstration connected participants from QCIF at the University of Queensland, University of Melbourne, Texas Advanced Computing Centre (USA), Gwangju Institute of Science and Technology (South Korea) and APAN.
Speakers from QCIF highlighted the benefits of visualcasting for medical diagnostics, natural resource mapping, scientific research, oil and gas resource prospecting and industrial design. Bernard Pailthorpe, Chief Executive Officer of QCIF said, "The geographical spread and remoteness of Australia means visualcasting will improve remote collaboration significantly. By relying on AARNet's high-speed network and the SAGE Bridge, experts can share very large scale images and dynamic data, and so be able to rapidly make more informed decisions using information they can share in a collaborative environment."
Chris Hancock, CEO of AARNet said, "AARNet's high speed network is critical in enabling real-time collaboration to take place over the SAGE Bridge. The advances taking place in the development of OptiPortal technology in the higher education sector is driving the next generation of visualisation. This type of initiative is not only groundbreaking, it will continue to stimulate the video applications that will develop our future broadband usage."
Some examples of what the SAGE Bridge can enable include a high level of detail on patient medical imaging to help medical professionals diagnose rare tumours or diseases. Planners and researchers will be able to improve their assessments and decisions on the allocation or conservation of natural resources by having more detailed satellite maps on display. Industrial designers will be able to develop more precise simulations on large scale design projects giving Australians a competitive advantage in commercial product design.
The AARNet SAGE Bridge is based on the freely available Scalable Adaptive Graphics Environment (SAGE) visualization software developed by the Electronic Visualization Laboratory at the University of Illinois at Chicago. The SAGE Bridge is available to AARNet members who have an OptiPortal and are connected to AARNet on a 10Gbps access point.
For further information, please contact:
Gabriel Wong
Max Australia
+61 2 9954 3492
gabriel.wong@maxaustralia.com.au
About AARNet
AARNet Pty Ltd (APL) is the company that operates Australia's Academic and Research Network (AARNet). It is a not-for-profit company limited by shares. The shareholders are 37 Australian universities and the CSIRO. AARNet provides high-capacity leading edge Internet services for the tertiary education and research sector communities and their research partners. AARNet serves more than one million end users who access the network through local area networks at member institutions. For further information, please visit:www.aarnet.edu.au.
About QCIF
Queensland Cyber Infrastructure Foundation (QCIF) deploys and maintains High Performance Computing (HPC) and advanced ICT infrastructure to support Queensland researchers and industry. Founded in 2000 by the University of Queensland, Queensland University of Technology, Griffith University, University of Southern Queensland, Central Queensland University, James Cook University and the University of the Sunshine Coast, QCIF is a collaborative vehicle to build shared research infrastructure encompassing Brisbane and regional areas.